Student life
Curious about what living in Flanders and Brussels would be like? Follow here the one-year-long journey of an international student in our region. Tips and tricks included!
A year in the life of a student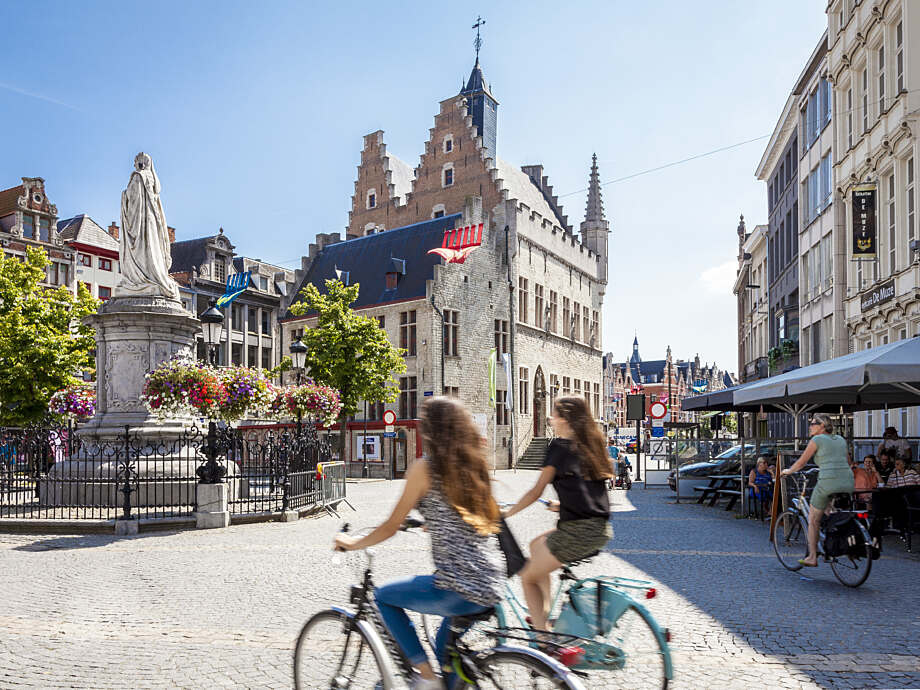 August and September
Welcome to Belgium!
Congratulations, you made it to Belgium, and more specifically to Flanders or Brussels. Excellent choice. We have many student rooms available in the middle of our student cities. Hopefully you will soon feel at home. If you really want to fit in and get around easily, make sure to get a bike!

September
Start of the academic year
The academic year starts around mid-September. Whether you study in Antwerp, Bruges, Brussels, Geel, Ghent, Hasselt, Kortrijk, Leuven or Mechelen, every study destination offers a student welcome event at the start of the academic year. Lots of new friends to meet out there!
Take note: it is perfectly possible to start your journey during the second semester, in February. Read all about our higher education structure here.
October
High level education
All Flemish higher education institutions offer top quality education. Your coursework is a combination of lectures, group assignments, presentations and individual study work. All practice-based bachelor degrees, offered by universities of applied sciences (and arts) include compulsory internships, in Belgium or abroad.
November
Autumn colour festival
1 and 11 November are national holidays in Belgium. Perfect timing to put on your walking boots, head out to one of Belgium's forests and enjoy the wonderful autumn colours.
December
Winter magic
Need a break from studying? Put on an extra layer of clothes and explore the winter magic around the city on the days before Christmas: ice rinks, chalets, sound and light shows and Belgian waffles to keep you warm.
January
Study, study, study, exams, exams, exams
The end of the first term already! Note down your exam dates and plan your exam prep carefully. A desk in the library or your student room? FInd your spot, sit down and study, study, study. Now is the time to secure those credits. Go go go!
February
Inter-term recess
After all the long hours of study you put in, you definitely deserve a break! Exploring Europe or showing your friends around our Flemish art cities? This is your week to relax and enjoy!
March
A healthy mind in a healthy body
Hooked on the Belgian eating culture of fries, waffles and chocolate? No worries! All Flemish institutions provide sport classes, sport infrastructure and/or discounts to sport clubs, which will assure you don't feel guilty after eating that delicious Belgian praline!
May
Winter is over, time to enjoy the sun
Spring is in the air! Make sure to enjoy it while you can. Belgium has an extensive rail network and our cities are very well connected. Gather your friends and explore our historical city centers, go on a boat trip, or have a drink with a view.
June
Rain of shine, it's examinations time
End-terms are here. To avoid retakes in August, give them all you've got! One last effort and you can enjoy the summer holidays. If you don't want to miss out on the sun, you can always try to find a quiet spot in the park to study.
July and August
Holidays, time to celebrate
Belgium offers plenty of fun opportunities during summer time! Do you like live music? Whatever kind of festival vibe you prefer, you will find at least one music festical (but probably two, or three) that corresponds to your taste! Dance till you drop at Tomorrowland (in Boom, near Antwerp), listen to the classics at Rock Werchter (near Leuven), enjoy world music at Couleur Café (near Brussels), or have a nice time at the Gentse Feesten (in Ghent). If you come (back) early you can explore Pukkelpop (near Hasselt) in August before the start of the academic year.
Practical information
Find here information on practical issues before and during your stay in Flanders!